US Defense Secretary Chuck Hagel has held talks in Islamabad with Pakistani Prime Minister Nawaz Sharif about US drone strikes against militants. Hagel arrived in Islamabad on Monday. He also met with the country's new army chief, General Raheel Sharif.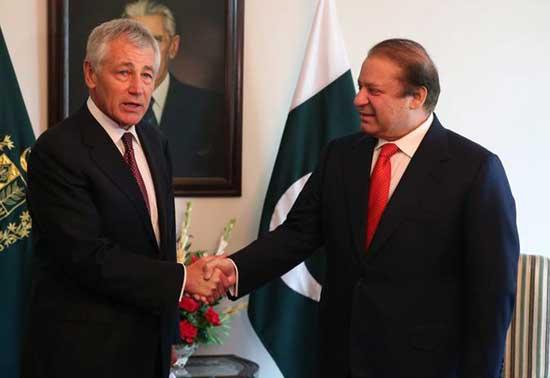 U.S. Secretary of Defense Chuck Hagel (L) and Pakistan Prime Minister Nawaz Sharif shake
hands during a meeting on December 9, 2013 at Islamabad, Pakistan.
The US has a complicated relationship with Pakistan. Their ties are further soured by a dispute over unmanned military aircraft the US uses to target militants in Pakistan's tribal areas on the Afghan border. Islamabad says drone strikes kill too many civilians and violate its sovereignty. Protests by anti-drone activists prompted the US to suspend ground shipments of NATO cargo leaving Afghanistan via Pakistan last week.
Hagel said if Pakistan doesn't resolve the protests, it could be difficult to maintain political support in Washington for an aid program that has sent billions of US dollars to Islamabad. Officials say Hagel received assurances from the Pakistanis that they would take "immediate action" to resolve the shipment problem.
Related stories
Editor:James |Source: CCTV.com