By CCTV reporter Yin Hang
China will continue to push forward with fiscal and tax policy reforms in 2014. Chinese Finance Minister, Lou Jiwei, told a press conference on Thursday morning that the ministry will deepen reforms of its fiscal budget mechanism. The finance minister also said China will strengthen the supervision of tax preferential policies.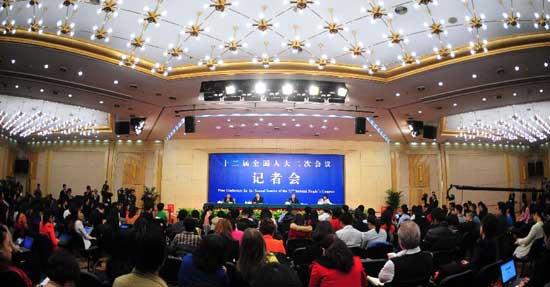 Chinese Finance Minister Lou Jiwei and vice Finance Minister Zhang Shaochun give a press
conference for the second session of China's 12th National People's Congress (NPC) on fiscal
and tax reform, in Beijing, capital of China, March 6, 2014. (Xinhua/Xiao Yijiu)
Wider and deeper budget and tax reforms promised by the world's second largest economy. Chinese Finance Minister Lou Jiwei, says various measures will be adopted, to boost reforms of budget and tax mechanisms.
Specifically, the central government will push forward with valued added tax reforms, consumption tax adjustment, and strengthening of preferential tax policies.
"We will make China's budget system more transparent. You may have noticed that changes are already taking place, as our policies become more easy to understand. In the meantime, we'll continue our taxation mechanism reforms. In particular we'll push ahead with China's value-added tax reforms. We're also working on new legislation for resources, environmental and property taxes. And we're planning to make a proper adjustment on the scale and rate of China's consumption taxes." Lou said.
China has unveiled plans for a larger budget deficit in 2014, as it tries to meet rising expectations for improved social services. The country is also grappling with mounting environmental problems.
Total spending has been set at 15.3 trillion yuan. The deficit will rise by 12.5 percent to 1.35 trillion yuan... that's 221 billion US dollars.
Lou Jiwei stressed that China will maintain its current proactive fiscal approach in 2014.
"China's budget deficit has increased by 100 billion Yuan at the central government, and by 50 billion at local government level. But in terms of percentage of GDP, it remains the same, at 2.1 percent. So our spending has increased properly and our fiscal policies remain proactive." Lou said.
Lou Jiwei also tried to clarify concerns over China's defense budget, which is set to rise by 12.2 percent. He said the increase is not just for military hardware and personnel.It also includes money to be spent on the reform and modernization of domestic public security organs, and law enforcement sectors.
The minister also says China will continue to pursue income tax reforms in order to boost living standards and rebalance the growing wealth gap.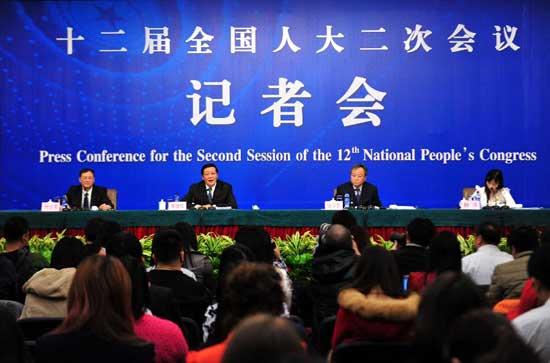 Chinese Finance Minister Lou Jiwei and vice Finance Minister Zhang Shaochun give a press
conference for the second session of China's 12th National People's Congress (NPC) on fiscal
and tax reform, in Beijing, capital of China, March 6, 2014. (Xinhua/Xiao Yijiu)
Related stories
Editor:James |Source: CCTV.com