Watch Video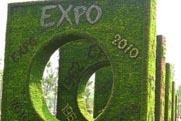 Play Video
The World Expo has often been called the "Technological Olympics." It commonly features dazzling designs from the planet's best scientists. This year is no exception.
There has been no better platform than the World Expo for new innovations to leap out of the laboratory, and into our lives. Thomas Edison's light bulb illuminated the entire globe after the 1878 showcase in Paris. At the dawn of the last century, it was the airplane invented by the Wright Brothers that proved the sky is the limit.
The reporter Wang Guan said, "And in 2010, the green technology that will revolutionize our way of living should be one of the hottest tickets in town. I'm now here at Shanghai's Zero Carbon Pavilion. This is the first public structure built in China that emits no emissions, and causes no pollution."
The plants on the roof, the heat-preserving glass, and the overall shape of the hall. Together they help this site use 70 percent less energy than a normal building. The remaining 30 percent comes from solar panels and wind caps. So how is zero carbon science different from previous efforts, such as the low carbon concept?
Chen Shuo, the general coordinator of Zero Carbon Pavilion said, "It's a difference in attitude. When we are talking about low carbon, we thought cutting down carbon is a burden and responsibility. However, when we talk about zero carbon, we think it's a treasure."
It's a treasure because a house is no longer just a place to live in, but a device for generating power. Inside these four walls, people turn waste into useful property, by recycling and reusing things we normally throw away.
Chen said "This is phenomenal because that means people will not have to pay extra. This building can generate more energy seven years later, when the cost is covered. And they can sell the energy and water they generate. In five years, all kinds of energy efficient buildings will be found across China."
Related stories