Watch Video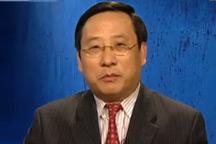 Play Video
For more on the Sino-French relationship, we're joined by Dr. Victor Gao Zhikai, our current affairs commentator. Mr. Gao.
Q1. Ties between China and France were strained in 2008 as report suggests. Chinese leaders even postponed the China-EU summit then. Why is Sarkozy coming to China, at this moment?
Q2. Compared with his position on the Beijing Olympic Games, Mr. Sarkozy chose to attend the opening ceremony of the World Expo. Why has his attitude to China changed?
Q3. We know Sarkozy is to meet Chinese leaders including President Hu Jintao, and Premier Wen Jiabao. Since no big deals are expected to be announced, what will be on his agenda?
Q4. As Feng jinchao said, "it is still too early to tell whether France's policies on China will ease and relations between the two will improve." Do you agree ?
Q5. Other than his ministers, Sarkozy has also brought his wife, Carla Bruni-Sarkozy, who often skips his overseas voyages, to China. In your eyes, does it have any specific meaning?
Related stories
Editor:Zhang Ning |Source: CCTV.com