Watch Video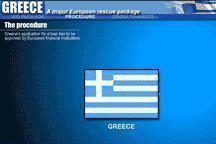 Play Video
Finance ministers of the 16 countries using the Euro are making 110 billion Euros in loans available to Greece over the next three years to keep it from defaulting on debts. The EU and International Monetary Fund bailout is aimed at keeping the Greek debt crisis from SPREADING to other financially weak members of the EU.
The plan still needs approval by some national parliaments, but the head of the Eurogroup says the first funds will be available to Greece by May 19th.
Jean-Claude Juncker, Eurogroup President, said, "In the context of a three year joint programme with the IMF, the financial package made available: 110 billion euros to help Greece meet its financial needs with euro area member states ready to contribute for their part 80 billion euros of which up to 30 billion euros in the first year."
In return for the bailout, Greece agrees to an austerity program of painful spending cuts and tax increases for years to come. The country's Finance Minister says it's not going to be easy.
Greek Finance Minister George Papaconstantinou, center, take his
seat prior to a press conference in Athens, on Tuesday, April 20,
2010. Finance Minister George Papaconstantinou said he would travel
to the United States Friday to attend an IMF meeting, and would
hold talks with U.S. Treasury Secretary Tim Geithner and IMF chief
Dominique Strauss-Kahn. (AP Photo/Nikolas Giakoumidis)
George Papaconstantinou, Greek Finance Minister, said, "We are fully aware that this is a programme that is not going to be easy. It is not going to be easy on Greek citizens, despite the efforts that have been made and will continue to be made to protect the weakest in society. We are absolutely convinced that this is a necessary programme."
Under the plan, the Eurozone would contribute 80 billion Euros to the bailout package. The rest of the money would come from the International Monetary Fund.
Economists say that while the bailout should keep Greece from defaulting in the next year or two, the country's meagre prospects for economic growth mean it will have difficulty paying off its debt over the long term.
Related stories
Editor:Du Xiaodan |Source: CCTV.com