Watch Video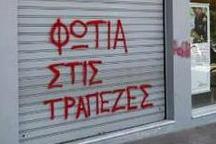 Play Video
Following the government's announcement of additional belt-tightening in order to secure financial aid, Some people in Greece reacted angrily, saying they aren't the ones who should pay for the country's current crisis.
The latest public opinion poll... says More than half of the Greeks disagree with the government's austerity measures. The Greeks, say the nation's two main political parties... are responsible, either because of corruption or incompetence.
The mood of FEAR and UNCERTAINTY is NOW mixed with anger...ANGER that the middle class will have to bear the brunt of the cost, and that politicians will walk free. Several bribery and corruption scandals from the time of the previous conservative government.. are under investigation. It's become one of the biggest sore points with Greeks.
Related stories