Watch Video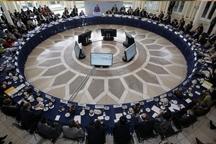 Play Video
Germany and Mexico are calling on world leaders to get talks aimed at cutting greenhouse gases back on track and achieve concrete results before the year ends. Ministers, and representatives from about 45 countries were invited to the informal talks in Bonn, Germany.
The three-day conference, called the Petersberg Dialogue, hopes to make progress on the details of a plan to reduce greenhouse gas emissions. German Chancellor, Angela Merkel asked world leaders to be more ambitious in combating climate change. She also says the world needs transparency on the issue,... clear planning and measurement methods.
Mexico is to host the next UN conference on climate change in December. Mexican President Felipe Calderon, says ONE of the areas that could see some progress there... is the fight against deforestation.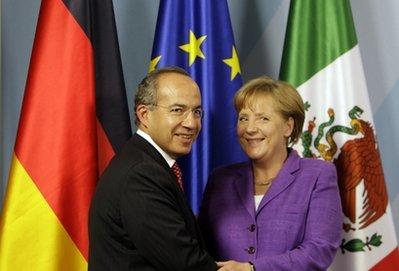 Felipe Calderon, President of Mexico, left, and German Chancellor
Angela Merkel, during a news conference in Bonn, western Germany,
Sunday May 2,2010. Mexico and Germany are starting three days of
meetings with 45 countries, teaming up in an effort to break a
deadlock in talks for a global climate deal.(AP Photo/Frank Augstein)
Editor:Du Xiaodan |Source: CCTV.com