Watch Video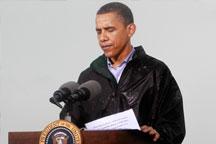 Play Video
Environmental analysts say the huge oil spill in the Gulf of Mexico, will have a dramatic impact on the area's ecosystem. U.S. President Barack Obama travelled to Louisiana Sunday for a first-hand look at the devastation and clean up work.
The US National Wildlife Federation is assessing the environmental damage resulting from the oil spill. The federation's president warned of serious consequences, saying habitat loss will be substantial.
Larry Schweiger, President US National Wildlife Federation, said, "It's clear that we're heading for a serious if not catastrophic loss of habitat contamination that will last for decades."
On Sunday, Obama stressed that the government will do everything they can to protect the gulf's ecological areas.
Obama said, "...And we're going to do everything in our power to protect our natural resources, compensate those who have been harmed, rebuild what has been damaged and help this region persevere like it has done so many times before."
Public anger is growing against British Petroleum, who operates the oil rig. The company has defended its safety record, and says that officials are still working to contain the damaging affects of the oil spill.
U.S. President Barack Obama talks after touring the Coast Guard Venice
Center in the Gulf of Mexico region to view environmental damage caused
by the sinking of BP's oil and gas Deepwater Horizontal drilling rig
while in Venice, Louisiana, May 2, 2010.(Xinhua/AFP Photo)
Related stories