Watch Video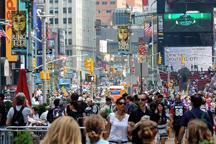 Play Video
An "amateurish" but potentially powerful bomb in a smoking SUV was found parked in New York's Times Square - one of the city's main tourist attractions. Though the Pakistani Taliban has reportedly claimed responsibility, New York City's, police commissioner says there's NO evidence the group is linked to the attempted bombing.
The US Homeland Security Secretary says there is no evidence of a Taliban link to the bomb plot involving an explosives-laden SUV parked on the Times Square.
Janet Napolitano, Secretary U.S. Homeland Security Dept., said, "Well, right now we have no evidence that it is anything other than a one-off, but we are alerting state and local officials around the country, letting them know, what is going on, the forensics are being done. As leads evolve or develop, they will all be tracked down. This is getting attention - FBI, Department of Homeland Security, New York City police - everybody is on it."
Police gather before they patrol the Times Square in New York, the United States,
May 2, 2010. New York Police Commissioner Raymond Kelly said on Sunday there is no
evidence to support the claim by a Pakistani Taliban commander that he was behind
Saturday's failed car bomb attack on Times Square. A top Pakistani Taliban commander
has claimed responsibility for a failed car bomb attack on Saturday in New York
City's Times Square area, according to The Long War Journal website Sunday report.
(Xinhua/Shen Hong)
The Pakistani Taliban has reportedly claimed responsibility. A statement attributed to the group says it was done to avenge the killing of an Al Qaeda leader in Iraq and the head of one of the organization's affiliates.
The SUV contained three propane tanks, fireworks, two 19 liter gasoline containers and two clocks with batteries, electrical wire and other components.
Two vendors alerted the police after they spotted the suspicious SUV and noticed its keys were still in the ignition. Shortly after that, a firecracker-like popping sound was heard. Police say the bomb appeared to be starting to detonate but malfunctioned.
Thousands of tourists were cleared from the streets near New York's famed Broadway theaters for 10 hours.
Related stories