A festival of a different theme -- a twins festival. You might have heard of the one in Ohio,in the United States. It's supposedly... the biggest of its kind. Now, you don't have to travel THAT far to attend one. A Chinese Twins Festival opened May 1st in Mojiang in Southwest China's Yunnan Province. Around one thousand twins... from across China and abroad are taking part.
Now in its 6th year, the two-day Mojiang International Twins Festival is packed with hilarious activities from traditional ethnic dance performances to twins parades.
People with nearly identical faces soak up the sunshine on local streets, and chat to their hearts' content.
Twins from around the world can't help but express their passion for the occasion.
The Twins Festival has also arranged a charity donation to help combat the drought in Yunnan.
The local government hopes the annual International Twins Festival will boost local tourism and put Mojiang on the map.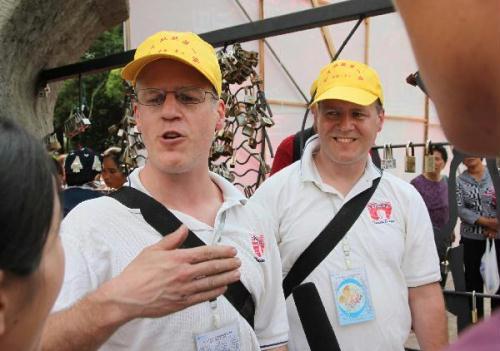 A pair of foreign twin brothers talk to media during the Sixth Mojiang International
Twins Festival attracting nearly one thousand pairs of twins in Mojiang county,
southwest China's Yunnan province, May 2, 2010.(Xinhua/Li Yunsheng)