Watch Video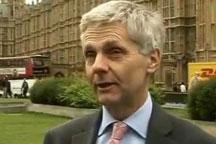 Play Video
In Britain, the whole country is waiting for the Liberal Democrats answer. But no matter who the party's leader Nick Clegg decides to stand behind, analysts warn a coalition government in Britain has its risks.
Political wrangling could go on for days in Britain.
Voters for the Liberal Democratic Party, which ranked third in the election, feel sorry for the loss.
Liberal Democrat Voter, said, "I was really hoping that this would be like the Lib Dems' chance to do very well since I voted Lib Dem and, yeah, a bit upset."
But perhaps they should not be feeling so upset, for the party they support now has its say in choosing a partner for a possible coalition government.
Conservative Voter, said, " Let's just hope that the Liberal Democrats keep to their word, and they stick to what they said they're going to do, and they're going to side with David Cameron and we're going to get rid of Gordon Brown."
Labour Voter, said, "I think it is really like bizarre, I expected the Lib Dems to do either really well or there to be a huge change but there wasn't, and I'm annoyed because I wanted Labour, and I don't really like the idea of like Cameron sitting there with a lot of authority."
Analysts say, the Conservatives and Liberal Democrats have similar views on many policies, but the differences cannot be overlooked,
Tony Rravers, Political Analyst, London School of Economics, said, 'They're not that far apart on many issues, and on some where they are, they can either, in a sense, ignore that bit of each others' policies, but on things like the budget - cutting Britain's deficit, tax policy - they would have to do deals with each other.'
Experts say Britain's lack of a tradition of coalition government could lead to a further general election, perhaps within a year, because the parties are not used to working together.
Editor:Zhang Pengfei |Source: CCTV.com