Watch Video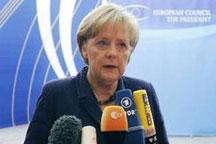 Play Video
German Chancellor Angela Merkel has called for tougher rules to keep wayward governments in line.
She adds that her European colleagues should also consider changes to the 1992 treaty that laid the groundwork for the shared currency.
Meanwhile, U.S. President Barack Obama says he agrees with the German Chancellor on the importance of a strong policy response to the current economic crisis in Greece.
Angela Merkel, German Chancellor, said, "...we have to take preventative measures to ensure the all around security of the euro. That means strong action by all member states for our mutual currency but also to support a stronger stability and growth packages including possible changes of the agreements. Otherwise from my point of view it won't be workable..."
Barack Obama, US President, said, "I also spoke this morning with German Chancellor Merkel regarding economic and financial developments in Europe. We agreed on the importance of a strong policy response by the affected countries, and a strong financial response from the international community. I made clear that the United States supports these efforts and will continue to cooperate with European authorities and the IMF during this critical period."
Related stories