Watch Video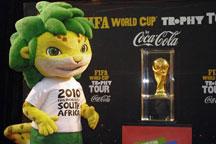 Play Video
The World Cup has gone on display in Cape Town, ahead of its nationwide tour of South Africa.
The solid gold trophy was unveiled in the Khayelitsha township, on the Cape Flats outside Cape Town. It followed an unexpected visit a day earlier by South Africa's former president Nelson Mandela.
Hundreds of football fans turned out to catch a glimpse of the trophy on Friday. Many were waving South African flags and wearing brightly colored costumes.
Organizers say over 400-thousand people will be able to see the trophy as it visits 38 cities and townships before the 2010 tournament kicks off on June 11th.
The 36-centimeter World Cup will be transported between venues in a special helicopter.
Related stories