Watch Video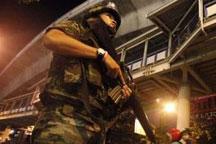 Play Video
Four policemen have been wounded after three explosions near a Bangkok business district.
The blasts took place early Saturday near Bangkok's heavily guarded Silom road area, close to an encampment of anti-government protesters.
Police suspect they may have been caused by grenades. They gave no further details as investigation was underway.
The incidents came just over an hour after a drive-by shooting in the Silom area.
One policeman was killed, and another injured, along with two civilians.
Related stories