Watch Video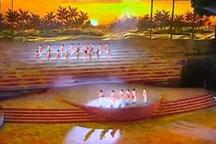 Play Video
The World Expo has transformed Shanghai into an international carnival. The Expo Culture Center has been a focus, which hosted the opening ceremony. Now let's take a look at the structure's unique characteristics.
Located in the core part of the Expo Part, this seashell shaped venue overs over 37 thousand square meters above ground and more than 50 thousand square meters underground. This is the Expo Culture Center, one of the four permanent constructs of the Shanghai World Expo. While the outer design is pretty futuristic. I'm more curious about what's inside.
Hey, one of the cool things about this arena is that it is equipped with 82 VIP suites on the third and fourth floor. Let's go check out what they look on the inside? Wow, this is awesome. Check this out. Nice furniture. TV. Front row seats here.
While filming here today, I had the opportunity to see one of the rehearsals for the expo Opening ceremonies. The sound effects, the sense of space, and all things needed for a perfect performance owes much to the widely-used three-dimensional techniques. These techniques also make it possible for stage artists to realize their creative ideas. which is the first ever in China. And as the first director in China to use this arena, Teng Junjie is keenly aware of what makes it so special.
Teng Junjie, Director of Expo Opening Ceremony, said, This is a three dimensional structure equipped with the most advanced technology that allows for so many options that can help realize whatever effect you want, such as aerial use above the stage and use of the center part of the area, rising from the floor. I think this is the most advanced arena in China, with the same scale and the same standards as abroad. I am honored to be the first director to put his new arena to use.
This arena best illustrates its multi-functional features by the ability to transform into different sizes in order to accommodate different uses. According to Mr. Teng, the performance schedule here has already been fully booked during the six month long grand event. In other words, every day will offer sports or cultural performances presented here, including music shows staged by domestic and overseas orchestras and pop music bands, as well as sports like boxing and free combat.
Hey, I wonder what it would be like to perform on a stage like this.
Ok, one of my life dreams is coming true right now: sharing a stage with big stars like Jacky Chan.But you know what was even better? Performing alongside and getting to know people from all over the world, and using Chinese to communicate in the process, these new friends and this experience treasure forever.
Editor:Zhang Pengfei |Source: CCTV.com