Watch Video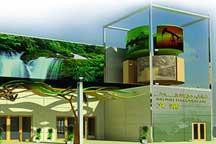 Play Video
Saturday on the Shanghai World Expo calendar is Brunei Pavilion Day.
Brunei, officially the State of Brunei Darussalam, the Abode of Peace, is located on the north coast of the island of Borneo, in Southeast Asia.
Walk past the tropical forests, and reach for local delicacies and unique hand-weavings. Glimpse into Brunei's future via a touch screen and 4D cinemas.
The country consists of two separate parts, covering a total area of 5,765 square kilometers. Brunei is a multiracial nation, where Malays account for two-thirds of the population, and ethnic Chinese, a tenth.