Watch Video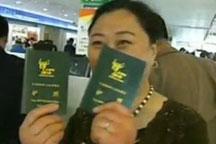 Play Video
Expo merchandise has become popular with visitors since the opening of the Shanghai world expo.
Sales over the three-day Mayday holiday amounted to nearly 8 million yuan or 1.2 million US dollars. Among many souvenirs, the expo passport is the best seller. Mike Patterson has more.
The passport is a traditional souvenir for visitors. It sells for 30 yuan, or 4.4 US dollars. The passport allows visitors to keep a record of their experience at the site. It's said the yellow passports for children and the red standard version are the two most popular types. But for many visitors, they prefer to buy a package with every color.
Tourist, said, "...The Chinese pavilion is also red. The color red has a special meaning for Chinese I think...."
Tourist, said, "...My husband said he wants all four colors, so I have got all of them. He likes collecting..."
Visitors' enthusiasm for the passport has been unexpected. On the first day of the expo, the planned 50,000 copies all sold out, and an additional 170,000 have had to be produced to meet demand. Using the passport, visitors can get free stamps from every pavilion they visit.
Visitor, said, "...I have got more than 30 stamps. I come from outside Shanghai. I want to get as many as I can. I think it's a good way to remember my experience..."
Since the opening of the Expo, other souvenirs have also been popular including toys, pins and hangers featuring the mascot haibao. Sales of other merchandise such as hats, umbrellas, T-shirts have also been good. Merchandise costing around 30 yuan, or 4.4 US dollars, is most popular.
Editor:Zhang Pengfei |Source: CCTV.com