Watch Video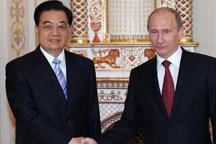 Play Video
Chinese President Hu Jintao has met Russian Prime Minister Vladimir Putin in Moscow. They've exchanged views on the development of the strategic relations of cooperation and partnership between China and Russia.
President Hu is in Moscow for celebrations marking the 65th anniversary of the victory in the Great Patriotic War over Nazi Germany. Hu Jintao says both China and Russia made historical contributions to the war against the Nazis. He says China is willing to join Russia in holding a series of activities to celebrate the 65th anniversary of victory over the Nazis.
Putin welcomed Hu's trip to Russia for the ceremony, saying his participation in the event symbolizes the spirit of bilateral strategic partnership.
Related stories