Watch Video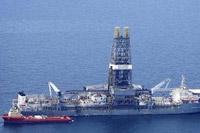 Play Video
BP workers are trying to lower a giant dome onto the sea bed, to contain oil leaking from its Gulf of Mexico oil well. However, the operation has suffered a technical glitch.
Officials are trying to find a solution to the problem, after methane hydrates, or flammable ice prevented the 98-ton containment dome being lowered into place. The four-story structure is designed to redirect the unchecked flow of crude oil from nearly one mile below the surface.
Once connected, it will pump the oil to a surface tanker. If the dome plan fails, BP's next option is to drill a relief well to cut off the leaking oil well, an operation which could take two to three months.
Related stories