Watch Video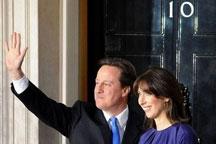 Play Video
Conservative leader, David Cameron is now the new British Prime Minister.
The confirmation followed Gordon Brown's resignation Tuesday. It means Conservatives are back in power after 13 years of Labour government.
At the age of 43, Cameron has become Britain's youngest prime minister in almost 200 years.
David Cameron, British Prime Minister, said, "Her Majesty the Queen asked me to form a new government, and I have accepted."
Cameron says he hopes to form a full coalition government with the third-place Liberal Democrats.
He said that governing within a coalition would be a difficult process, adding that Britain needed to tackle urgent economic issues.
Earlier, Former British Prime Minister Gordon Brown resigned with a brief, emotional statement, ending 13 years of Labour government.
Related stories