Watch Video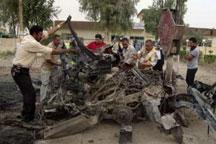 Play Video
Monday's suicide bombing in Baghdad, has left residents assesing the extent of the damage. The blast was part of a wave of attacks, that killed more than a hundred people across Iraq.
The International community, including the United Nations, the European Union and France, have strongly condemned the attacks.
On Tuesday, Iraqis returned to the street where the blast took place, to clear debris and take stock of the damage.
Local residents say the attacks are nothing new.
Abu Yasser, Baghdad Resident, said, "These bombings are not new events. They've been happening since 2004. The attacks increase and decrease according to the political situation. Everybody knows who is responsible, but nobody says anything."
Iraqis are calling on politicians to form a new government as soon as possible, to achieve peace and stability in Iraq.
Mohammed Radhi, Baghdad Resident, said, " We call upon Iraqi political leaders to send a message to the terrorists by forming a government as soon as possible. This will achieve national reconciliation and stability."
Bombers and gunmen killed more than 100 people on Monday, in a day-long wave of attacks on markets, a textile factory, checkpoints and other sites across Iraq.
The attackers are exploiting the political disarray, following the March 7th election that produced no outright winner. The poll pitted a cross-sectarian bloc backed by minority Sunnis against two major Shi'ite-led coalitions.
Related stories
Editor:Zhang Pengfei |Source: CCTV.com