Watch Video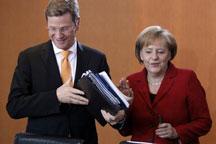 Play Video
German Chancellor Angela Merkel's cabinet has approved Germany's part in an EU package to support the euro. The German contribution is expected to be worth some 123 billion euros in loan guarantees.
This sum could rise by 20 percent, with the approval of the German lower house of parliament's budgetary committee. The 1 trillion dollar emergency package will be made available to governments with financial difficulties, to prevent their economies from defaulting.
The plan was agreed upon by the European Union and the International Monetary Fund, with the overall aim of bolstering the Euro, and containing the continent's debt crisis. It's eased fears of the Greek debt crisis spreading to other countries such as Spain and Portugal.
Related stories