Watch Video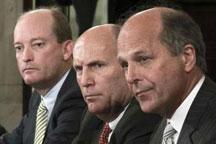 Play Video
A lot of finger pointing on Capitol Hill Tuesday, as the blame game was played out over the Mexican Gul oil disaster.
US lawmakers questioned executives from 3 companies about the cause of the massive leak.
In a testimony before the Senate Energy and Natural Resources Committee, the Chairman of BP America said the disaster was caused by the failure of a safety device made by another company.
However, that company, Transocean, accused BP, saying it was in charge of the overall operation. There were also claims that a third company, Halliburton, failed to properly plug the exploratory oil well.
They responded by saying they were only following plans by BP. The spill has been contaminating water in the Gulf of Mexico for 3 weeks.
The pollution is threatening sensitive marshes and marine wildlife, from Louisiana to Florida.
Related stories