Watch Video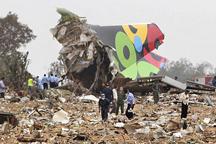 Play Video
A Libyan plane has crashed at Tripoli airport. There were 105 people including 94 passengers and 11 crew members on board. Only one Dutch child survived. Search and rescue efforts are now underway.
Libyan plane, Flight 8U771, was flying from Johannesburg to Tripoli when the accident happened.
According to initial reports, the plane crashed as it neared the end of Tripoli International's main east-west runway, while preparing to touch down. The crashed plane belonged to Afriqiyah Airways.
The company was founded in April 2001 and ran a fleet of Airbus planes. It's issued a statement confirming the crash but has not given details about casualties and survivors.
Horror: All of the 104 on board died in the crash, save one - believed to be an
eight-year-old Dutch boy who was thrown clear as the plane exploded on impact
Related stories