Watch Video
Play Video
Conservative Party leader David Cameron has become Britain's youngest prime minister in almost 200 years. It follows Gordon Brown's resignation on Tuesday and means the Conservatives are back in power after 13 years of Labour rule.
David Cameron arrived at Number 10, Downing Street to begin life as British Prime Minister on Wednesday morning.
Cameron says he aims to form a full coalition government.
David Cameron said, "We have some deep and pressing problems - a huge deficit, deep social problems, and a political system in need of reform. For those reasons, I aim to form a proper and full coalition between the Conservatives and the Liberal Democrats."
The leader of the third-placed Liberal Democrats, Nick Clegg has driven a hard bargain in return for supporting a coalition deal. Conservative Party officials say Clegg will serve as Britain's deputy prime minister.
David Cameron appointed his new partner as deputy prime minister and awarded Clegg's group four other Cabinet posts.
The prime minister's office says there will be five Liberal Democrats in the cabinet in total, including Clegg.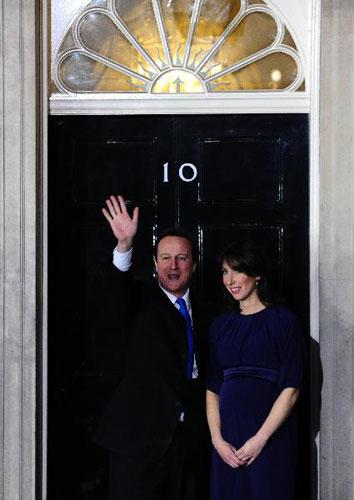 Britain's new Prime Minister Conservative party leader
David Cameron (L) and his wife Samantha arrive at 10
Downing Street in London, on May 11, 2010. Cameron was
appointed by Britain's Queen Elizabeth II as new prime
minister. (Xinhua/Zeng Yi)
Nick Clegg said, "I hope this is the start of the new politics I have always believed in - diverse, plural and where politicians with different points of view find a way to work together to provide the good government for the sake of the whole country deserves."
The new leadership will have to tackle a record budget deficit running at more than 11 percent of national output.
A Conservative source says the two parties have agreed to accelerate deficit reduction plans significantly. The focus will be more on cutting public spending than raising taxes.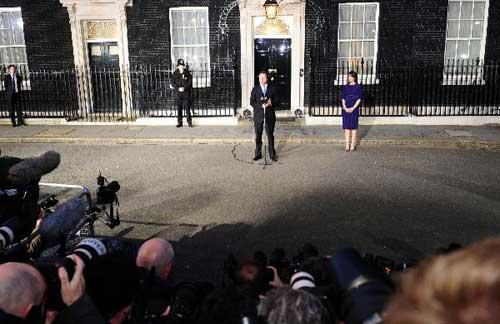 Britain's new Prime Minister Conservative party leader David Cameron speaks in
front of 10 Downing Street in London, on May 11, 2010. Cameron was appointed by
Britain's Queen Elizabeth II as new prime minister. (Xinhua/Zeng Yi)