Watch Video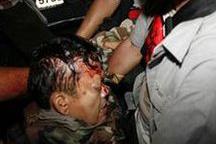 Play Video
The Thai army has clashed with hardline red-shirt protesters, leaving one person dead and more than 10 others injured. One of the main anti-government figures, Major General Khattiya Sawasdipol, who is accused of leading a Red Shirt paramilitary force, was shot in the head and is being treated in intensive care.
The latest violence followed a warning from the Thai government that it would shoot "terrorists", in its latest effort to end the two-month-long siege by thousands of Red Shirt protestors.
The 25-year-old man who was shot dead, is believed to be a protester.
The protesters are occupying a 3-square-kilometre area in Bangkok's wealthy Rajprasong neighbourhood. They demand Prime Minister Abhisit Vejjajiva resign and call immediate elections.
Several gunshots and explosions were heard late on Thursday from the vicinity of the rally site of the Red Shirts.
Major General Khattiya Sawasdipol is carried to an ambulance after
being shot in the head behind the barricades at a fortified camp
in Bangkok's shopping district May 13, 2010.REUTERS/Steve Pace
At one point,hundreds of protesters threw rocks and firecrackers at a group of soldiers. The soldiers responded with gunfire.
The clashes came after renegade army general Khattiya Sawasdipol was shot in the head and seriously injured by an unidentified gunman.
Following the violence, the government extended a state of emergency to cover 17 provinces. They are seeking to prevent rural protesters from travelling to Bangkok. The move has added 15 new provinces to an emergency decree that had already applied to Bangkok and another nearby province.
The decree gives the army broad powers to deal with protesters.
Related stories