Watch Video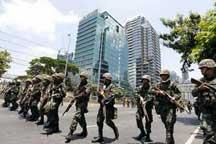 Play Video
Fresh violence has erupted in the Thai capital after government troops attempted to blockade red shirt protesters. The latest round of violence has so far claimed 30 lives and injured hundreds.
The clashes have plunged Thailand deeper into political uncertainty, with both sides hardening their positions. Protesters in the Thai capital reinforced their encampment on Friday.
A series of explosions rocked the area of the city where the protestors were encamped, together with sporadic gunfire. But it wasn't immediately clear who was behind it or whether there had been further casualties.
An apparent deal to end the 2 month long protest unraveled over the past few days, after demonstrators refused to end their occupation of Bangkok's shopping district.