Watch Video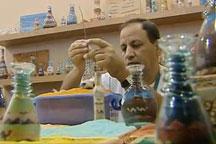 Play Video
The allure of experiencing Arabic culture first-hand has attracted hundreds of thousands of visitors to the second joint Asia Pavilion.
The pavilion provides a window to those curious about Middle Eastern countries.
The Jordan Pavilion's daily sand bottle demonstrations never fail to attract a large, enthusiastic crowd.
The art of bottling sand dates back 150 years ago. Despite its historic tradition, today there are just 30 sand artists in Jordan.
The bottles display colorful sand layered in geometrical decorations.
Artists use merely funnels, iron wires and, of course, sand to create their exquisite works. For newcomers, it is a painstaking process. But these veteran artists can create a fist-sized decoration in just a few minutes.
Yu Zhou, Sales Supervisor, Jordan Pavilion, said, "The sand comes from natural stones, such as these. The stones can only be found in Jordan."
Meanwhile at the Yemen Pavilion, ladies are trying their hand at Yemeni henna tattoos.
Henna is a herbal liquid commonly found in tropical regions of Africa, southern Asia, and northern Australasia.
Yemeni-style henna tattoos feature large floral patterns that traditionally adorn women's arms, hands, feet and backs.
The temporary tattoo art usually marks special occasions, such as weddings.
At the Afghanistan Pavilion, visitors can gain insight to daily life of Afghans.
The head of the pavilion says the World Expo has provided a great opportunity for the war-torn nation to showcase its rich cultural heritage.
Antiques, textiles and traditional silver jewelry are just a few of the items on display at the Afghanistan Pavilion.
Editor:Zhang Pengfei |Source: CCTV.com