Watch Video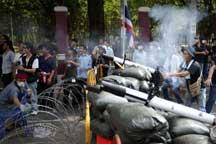 Play Video
The intense political situation in the Thai capital is continuing, with troops stationed nearby the main anti-government protest site in central Bangkok.
At least two Thai media personnel and one local CCTV cameraman were reportedly injured in the clashes. So far the Thai army has detained 17 protesters and reportedly seized some fire bombs.
Thai troops fired bullets and tear gas on anti-government protesters rioting near the US and Japanese embassies on Friday. Ensuing street clashes have killed two people and wounded at least 13 others, including a Thai photographer and a foreign journalist.
A doctor said a 33-year-old man had been shot and killed on Friday. Sounds of gun fire was also heard in several areas near the protest site. Helicopters were also seen flying above demonstrators.
Earlier on Friday, red-shirt protesters built a new barricade using sandbags and barbed wire. Soldiers used tear gas and water cannons, as they tried to disperse the protesters.
Violence escalated after a rogue army general, who is reportedly acting as a military advisor for the Red Shirts, was shot in the head on Thursday evening.
He was allegedly hit by sniper fire, and remains in critical condition. Fighting in the two month long protests have now killed 30 people and injured hundreds.
The Red Shirts, mostly poor residents from rural areas, began demonstrating in the capital on March 12th, in a bid to force out Prime Minister Abhisit Vejjajiva.
Related stories