Watch Video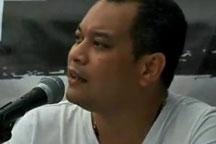 Play Video
Thailand is now deeper in political uncertainty as both sides are digging in and hardening their positions.
The red-shirts say the government should be held responsible for all the casualties and that they are not terrorists.
Nattawut Saikeau, Anti-Government Protest Leader, said, "If Abhisit decides politically it will ease this situation, to use force is useless to get us to give back the area. There will be more injured and dead. "
Anti-Gov't Protester, said, "We are accused of being terrorists by the government. I can definitely say that if we were terrorists, we would not gather here with a lot of people."
Anti-Gov't Protester, said, "I don't think it is violent, but the government wants to cut off electricity, water supply. I don't understand why they did this. They should have used compassion rather than power to deal with the situation."
Related stories
Editor:Zhang Pengfei |Source: CCTV.com