Watch Video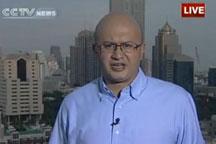 Play Video
Let's go back to the Thai capital, and our correspondent, Tony Cheng, for the latest.
Q1: Hello Tony. The conflict has killed and injured several people, including media personnel. Two Thai journalists and one CCTV camera man were injured. Local residents were also wounded during the clashes. What's the latest update on that front.
Q2: Has the government or red shirt protestors, proposed any concrete measures that can end the violence?
Q3: How will Thailand's political situation evolve after such a prolonged protest?
Q4: The protests have already taken its toll on Thai society. As the conflict worsens, how will local residents respond? Are they frightened or are they just trying to adjust to the situation?
Q5: Anti-government protesters have launched many demonstrations in the past. In your view, why has Thailand seen such frequent large-scale movements?
/UL>
Editor:Zhang Pengfei |Source: CCTV.com