Watch Video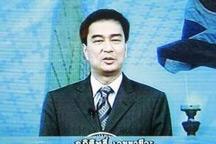 Play Video
Thailand's Prime Minister Abhisit Vejjajiva has defended the army's crackdown on Red Shirt protesters, saying it's the only way to restore order in Bangkok. Street battles have now been raging for a third consecutive day, with the death toll rising to 24.
Thai government troops started to seal off the red-shirts' fortified encampment late Thursday, prompting clashes between the two sides.
Violence escalated after a renegade army general, who is reportedly acting as a military advisor for the Red Shirts, was shot in the head.
The protestors fired weapons, threw homemade explosives, and hurled rocks at troops who responded with live ammunition and rubber bullet fire.
Twenty-four people have now lost their lives and some 211 others have been wounded.
In a televised address on Saturday, Prime Minister Abhisit Vejjajiva said the government would not retreat.
Thailand's Prime Minister Abhisit Vejjajiva said, "...We can't allow a situation where people set up armed groups and overthrow the government because they don't agree with it. I insist the government must move forward with this operation. We cannot retreat because what we're doing is for the good of the majority of the people."
Abhisit says the government is trying to stop the protests and ensure minimum loss of life.
On the same day, an army spokesman said that only five-thousand protesters remain in the encampment, thanks to the troops setting up a few kilometers of cordon around it to prevent Red Shirts from entering.
The two-month-long anti-government rally is an attempt by the Red Shirts to force Abhisit to dissolve parliament immediately and call new elections.
The political crisis has spooked foreign investors and damaged the country's vital tourism industry, which accounts for 6 percent of the Thai economy.
Related stories
Editor:Zhang Ning |Source: CCTV.com