Watch Video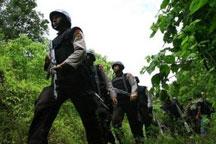 Play Video
Indonesian police say they have uncovered and foiled an attack against the president and other top officials. They say terrorists also planned an assault on hotels targeting foreigners.
A series of raids this week on militant hideouts in and around the capital Jakarta have yielded 20 arrests as well as a supply of weapons.
Five suspected militants have been killed in the raids.
Most of those arrested are believed to have been trained at a camp in the western province of Aceh, run by a group called al-Qaida in Aceh, a new splinter of the Southeast Asian terror network, Jemaah Islamiyah.
Plotters are said to have been planning to launch their assault during this year's Independence Day ceremony on August 17, attended by the country's top leaders, including President Susilo Bambang Yudhoyono.
They are then said to have been planning to declare an Islamic state.
Indonesian Police Chief Bambang Hendarso Danuri said, "They intended to take action to murder the Indonesian President and other officials."
Officials say the plot also included taking over hotels and killing foreigners in violence that would have been reminiscent of the 2008 Mumbai attacks and Indonesia's own Bali bombings.
Bambang Hendarso Danuri said, "They planned to launch attacks in Jakarta and Java against foreigners - especially Americans - and attack and control hotels within certain communities, imitating what happened in Mumbai. They also planned to commit murder and bombings among the community of foreigners in Aceh to attract the attention of the world."
The plot was initially uncovered during a February raid on a militant training camp in Aceh.
Police have so far arrested 58 suspected militants and killed 13 in a series of raids since February.
But at least two powerful militants, including Abdullah Sunata, the country's most wanted fugitive, remain at large.
Editor:Zhang Ning |Source: CCTV.com