Watch Video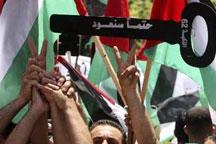 Play Video
Palestinians from both sides of the political divide have marked the anniversary of "Naqba", or "Catastrophe Day", the day in 1948 when Israel was carved out of UN-mandated Palestine.
In a rare show of unity, loyalists to rival Palestinian groups marched together to commemorate the 62th anniversary of displacement of Palestinians following the creation of the state of Israel.
Some 700-thousand Palestinians fled, or were driven from their homes during the war that followed the declaration of the Jewish state.
They demand a return to their homes, along with their descendants born since.
Senior Hamas leader Mahmoud Al-Zahar said, "Our message is clear as the sun: Palestine, all of Palestine, regardless of how long the occupation lasts, will return to its owners."
In previous years, different Palestinian factions had organized their own events for the day. But on Saturday, Gaza's Hamas rulers invited their Fatah rivals to participate in the march, in Gaza City.
In the West Bank city of Ramallah, hundreds of Palestinians motorists and pedestrians stopped as a one-minute siren sounded.
Smaller marches took place in other West Bank towns and in east Jerusalem.
In the West Bank town of Burin, Palestinians clashed with Israeli forces during a demonstration.
Israelii soldiers used tear gas to disperse Palestinian stone throwers.
Editor:Zhang Ning |Source: CCTV.com