Watch Video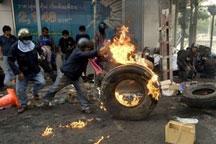 Play Video
Thailand's government says its crackdown on Red Shirt protesters will continue despite the protesters' plea for UN-mediated talks.
The death toll from the clashes now stands at 33 with hundreds more injured. But, a government spokesman says there's no reason for the army to withdraw since the authorities' operations involve neither threats nor armed force against people.
The Thai government has rejected calls by anti-government protesters for UN-supervised talks to end three days of deadly clashes between demonstrators and the army.
Panitan Wattanyajorn, Thai Government Spokesman, said, "We reject their demands for UN mediation or for them to do to any activities in Thailand. No Thailand government has ever let anyone intervene with our internal affairs. We can solve our problems ourselves but we are willing to listen."
Earlier, a Thai protest leader said demonstrators were ready to enter negotiations with the government if the talks were mediated by the UN and if the army agreed to a cease-fire.
Nattawut Saikua, Red-Shirt Protest leader, said, "Whenever the government announces the ceasefire, and withdraws the soldiers out of the area, we are willing to start a negotiation process to find a peaceful solution to end this. We are calling for the United Nations to be the mediator in these negotiations to end the crisis."
The two-month-long anti-government rally is an attempt by the Red Shirts to force the Prime Minister to dissolve parliament immediately and call new elections.
The protest turned bloody Thursday, after an army general, who is reportedly acting as a military advisor for the Red Shirts, was shot in the head.
Related stories