Watch Video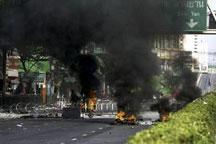 Play Video
Thailand's military has delayed imposing a curfew in parts of Bangkok, saying the situation is still under control.
A spokesman for the Center for the Resolution of Emergency Situations told a news conference that a curfew would be imposed only if clashes with anti-government protesters get out of hand.
Akara Kerdphon, Lieutenant-General, Ass. Army Chief of Staff for Cres, said, "We will not be announcing the curfew as we can still control the situation. If we cannot handle the clashes, or in case of any other circumstances, we will revaluate the situation and inform people of our decision."
Meanwhile, Thailand's government imposed a state of emergency in five more provinces on Sunday to allow security forces to control any unrest linked to violent protests in Bangkok.
The state of emergency bans a gathering of more than five people and gives the military broad powers. The government also called on red-shirt protest leaders to surrender.