Watch Video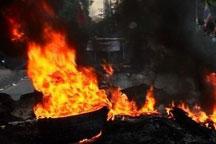 Play Video
The violence in Bangkok is causing tourists to cancel their holiday plans in the country. It's seen as a major blow to the country's tourism industry.
Many foreign tourists' holiday plans are being disrupted by shootings right on the doorsteps of their hotels.
Mark Chappell, Australian Tourist, said, "We got to see shooting, firing going across the sky, and we heard bangs and guns going off for the first night."
Nadiel Stiffel, Australian Tourist, said, "I think I certainly would be lying if I said that I felt completely at ease."
Malcolm Hinchleffe, British Tourist, said, "These things happen in life."
Some foreign tourists are flying out of Thailand.
Many countries are asking their residents to cancel unnecessary travel to Thailand.
The US, Japan, Holland, Britain, Canada and New Zealand have all closed their embassies in the country.
The US has also transferred staff from its Thai embassy to safe areas. It is chartering flights to take family members back to the US.
The political uncertainty has spooked foreign investors and damaged the vital tourism industry, which accounts for six percent of the economy.
The country's tourism department says there were 30 percent fewer foreign tourists last month.