Watch Video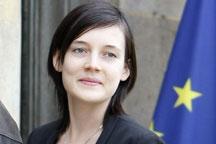 Play Video
A young French academic accused of spying in Iran has returned home to Paris.
Clotilde Reiss thanked her supporters, after being welcomed at the Elysee Palace by President Nicolas Sarkozy.
The 24-year-old woman was accused of joining protests, gathering information, taking photos and sending them abroad, during unrest that broke out after June's disputed Iranian presidential elections.
She was convicted of provoking unrest and spying. But her 10-year jail term was commuted to a fine of 300-thousand US dollars, which was paid on Saturday.