Watch Video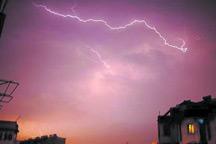 Play Video
Tornados, blizzards, and other extreme weather have been affecting many areas across China over the weekend. Authorities have issued emergency plans to enhance disaster relief and limit casualties and economic losses.
Seven people were killed and nearly 100 others injured after a tornado struck northeast China's Heilongjiang Province.
This devastating twister was captured by a mobile phone camera.
The tornado, along with a hailstorm, tore through several townships in the province on Saturday.
Local resident of Heilongjiang province said, "I was in the house when the tornado struck. The wind pushed me up against the wall. Then the roof was torn off. I was brought by the wind out of the house and fell on the haystacks in the back yard. "
Also on Saturday, a hailstorm hit the Aksu area in northwest China's Xinjiang Uygur Autonomous Region.
About 5,300 hectares of croplands were damaged. 60 percent of the damaged land will not produce any yield this year.
In the northern part of Xinjiang, a blizzard has damaged nearly 7,300 hectares' of crops. The spring plough in some areas is delayed.
The blizzard has also cut off power and water supplies, and increased the danger of floods.
Local official of Xinjiang Uygyr Autonomous Region, said, "The extreme weather has brought the worst disasters on record. The increased water level is putting great pressure on the embankments. "
In southern China, strong rainstorms since early May have triggered floods and mud-rock flows, burst dikes, and damaged highways and power facilities.
At least 86 people have been reported dead.
More wet weather with heavy rainfall or strong storms are expected over the next three days.
Editor:Zhang Ning |Source: CCTV.com