Watch Video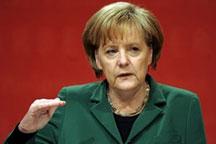 Play Video
German Chancellor Angela Merkel says the one trillion US dollar EU rescue plan has only given the euro zone breathing space.
She says it still needs to tackle its fundamental problem, the gap between its strongest and weakest economies.
Angela Merkel, German Chancellor, said, "We've done no more than buy time for ourselves to clear up the differences in competitiveness and in budget deficits of individual euro zone countries. And, ladies and gentlemen, what happened in Greece is totally unacceptable, that statistics were forged for years. We have now said that Eurostat must receive better access."
Addressing trade union members, Merkel backed the huge rescue package which EU leaders agreed a week ago to prevent Greece's debt crisis infecting other weaker euro zone members.
But Merkel also says far more is needed. She stressed that leaders can calm the situation only by sorting out the big economic divergence among the 16 countries which use the common currency.