Watch Video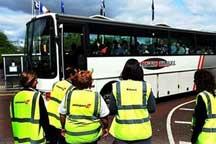 Play Video
A new cloud of ash from the Icelandic volcano has triggered fresh disruption to European air travel, with Ireland shutting down several airports and Britain imposing a no-fly zone on part of its airspace.
All airports in Northern Ireland are shut, along with others in northern England and Scotland. Meanwhile, Dublin's international airport plans to close until at least 9 am on Monday.
London's busiest airports are also set to close.
The UK and Germany have sent up test flights to investigate the ash plume. Experts blame the airport closures on shifting winds.
Matthew Watson, Volcanologist, said, "The activity is picking up a little bit and we're lofting ash a little bit higher and then what's happening is that, that is rather unfortunately combining with north westerly winds which are blowing the ash over UK and then continental European airspace."
Ash from the same volcano wreaked havoc on European air traffic last month, when some 100,000 flights were cancelled, leaving millions of passengers stranded. The International Air Transport Association says airlines lost nearly two billion US dollars.
Related stories