Watch Video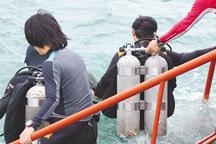 Play Video
Salvage work on a sunken merchant vessel is continuing at Nan'ao island off the coast of Guangdong Province in the South China Sea. More porcelain has been retrieved.
Operations were hindered Saturday due to poor weather conditions. Strong winds made excavation work off the coast of Shantou even more difficult.
But divers managed to plunge below the surface early Sunday morning.
The new batch of relics pulled from the ship were classified immediately. Most of the pieces are blue and white porcelain. Some are still in good condition.
Most of the salvage work needs to be done underwater, because the hull of the Ming dynasty vessel was severely damaged when it sank. Divers mapped out the perimeter, removed silt and extracted relics. The artifacts are then lifted to the surface in a metal cage.
Excavators found some export-oriented porcelain on Nan'ao One. Archeologists believe further studies on the items will reveal more secrets of the ancient maritime silk road on the South China Sea.
Editor:Zhang Ning |Source: CCTV.com