Watch Video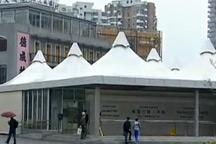 Play Video
Imagine the concept of " three hundred thousand people living in four square kilometers". It's like having 45 people in a small house about 60 square meters in Shanghai. Sounds impossible right? but, the Saudis can make it happen.
Mecca is a famous Holy City of Islam. There are about three hundred thousand pilgrims visiting Saudi Arabia every year, but only a few of them can stay in hotels. During the past ten years the government spent 25 billion riyal, that is about 45.5 billion yuan, in trying to solve this problem. They built a "Mecca tent town" to house millions of people. It is the largest tent town in the world. Now the "Mecca Tent Town" has been brought to the Shanghai Expo.
Long Chang, director pf Mecca Tent Town, Saudi Arabic Pavilion, Shanghai Expo, said, "There are 18 tents in the 'Mecca Tent Town'. Each tent will be a copy of the genuine, and will be built to a 1:1 scale. Special fabric is used for these tents, to proof against wind, fire and rain. The tent can also filter 90% of the sunshine, and makes it cool inside during the hot summer."
All basic living facilities in the "Mecca Tent Town" are available, as well as modern communication equipment. At the Shanghai Expo, visitors can look at a scale model and short documentary on pilgrimage history, among other things.
A visitor said, "I could not image how it worked until I saw it here. I knew there are many people that go on pilgrimages to Mecca, but I didn't know how they eat or how they live. It's unbelievable. It's fascinating. "
Editor:Zhang Ning |Source: CNTV.CN