Watch Video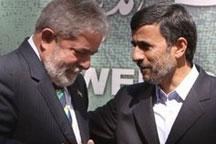 Play Video
Iran has signed a nuclear fuel swap deal with Turkey and Brazil. The agreement is an attempt to avoid new sanctions being imposed by the international community, over Tehran's controversial nuclear program.
The deal was reached following talks in Tehran between Iranian President Mahmoud Ahmadinejad, Brazilian President Luiz Inacio Lula da Silva and Turkish Prime Minister Recep Tayyip Erdogan.
Under the terms of the agreement, Iran will ship 12-hundred kilograms of low-enriched uranium to Turkey. In exchange, Turkey will hand over higher grade 20-percent uranium, which Iran needs for nuclear power facilities and medical purposes.
The exchange will take place in Turkey. Iran says the International Atomic Energy Agency will receive a letter outlining the deal within a week.
Turkey says there is no longer any ground for UN sanctions against Iran. The Iranian President has also called for fresh talks with major powers over the country's disputed nuclear programme.