Watch Video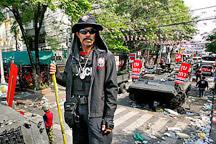 Play Video
For more on the continuing crisis in Thailand, we're joined by our Current Affairs Commentator Dr. Gao Zhikai. Thanks for your time, Dr. Gao.
Q1: Both sides in this battle are refusing to retreat as the death and injury toll mounts. Meanwhile, the government and military have rejected the Red Shirts' calls for UN-mediated talks. What are the implications of this move?
Q2: Some analysts say the current problems may escalate to a broader civil conflict. What are your thoughts? The demonstrators call their protests "street politics," or "street democracy." Can such standoffish tactics work in Thailand?
Editor:Yang Jie |Source: CCTV.com