Watch Video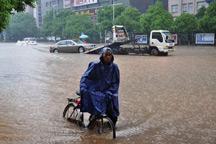 Play Video
Frequent rainstorms have inundated many areas in Southern China. Hunan and Hubei provinces, along with the Guangxi Zhuang Autonomous Region, are among the hardest hit.
Heavy rain and lightning storms hit parts of Hubei Province on Sunday. A transformer was struck by lightning in the capital city, Wuhan, and power was cut to 400 households. Lightning also struck several other areas of the city.
Experts say in the next two days heavy rainstorms are expected in most of the eastern provinces. Storm alerts have been issued. China Meteorological Bureau has launched its emergency response mechanism for weather-related disasters.
Editor:Zhang Ning |Source: