Watch Video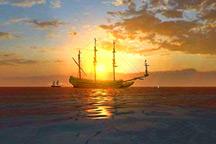 Play Video
The archaeological probe of the "Nan'ao One" off the coast of southern China is progressing smoothly, thanks to good weather. Experts say more valuable relics may be found over the following days.
So far, thousands of artifacts, mostly porcelain pieces, have been brought out of the water. They include wine cups, plates, jars, and vases. Archeologists conclude that the pieces come from the porcelain-making center of Zhangzhou. Its history as a center of porcelain manufacture dates back to the Ming Dynasty over five hundred years ago.
Since many of the relics already recovered bear Chinese characters, experts say the destination of Nan'ao One was probably an Asian country which was influenced by Chinese culture.
Chen Huasha, researcher of Palace Museum, said, "The patterns of these relics reflect Confucian culture. Therefore, the Nao'ao One was likely to be heading to places influenced by Confucian Philosophy, such as Japan, the Korean Peninsula, and other countries in southeast Asia."
Some say the artifacts already found could have been used as ballast to make the ship more steady. This practice involved transporting a number of inferior products to balance the ship. More valuable relics may be found as the operation continues.
Apart from blue and white porcelain plates, archeologists have discovered an item which looks like a ring, or an earring, as well as a batch of circular copper ingots.
A section of the ship has also been brought to the surface. It is hoped it will shed light on ship building during the Ming Dynasty.
Editor:Zhang Ning |Source: CCTV.com