Watch Video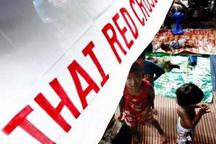 Play Video
Streets battles in Bangkok raged for a fifth day on Monday. The latest round of violence has left 37 people dead and more than 200 injured.
Red-shirt protesters have defied warnings to leave central Bangkok as troops moved closer to their positions. But Thai officials said the army was not planning immediate action to disperse the thousands still occupying the capital's shopping district.
A glimmer of hope arose on Monday, after a protest leader contacted the Thai government to discuss ending the standoff.
The offer came during a telephone conversation between Red Shirt leader Nattawut Saikuwa, who called the government's chief negotiator, Korbsak Sabhavasu.
It was the first direct talks between the two sides since the fighting started on Thursday.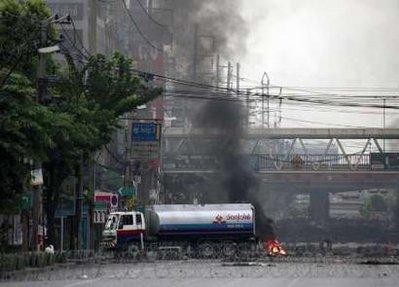 Anti-government "red shirt" protesters use a petrol truck to block a
road during clashes with soldiers in Bangkok May 17, 2010. Thai
protesters ignored calls by the government to leave their central
Bangkok camp on Monday as troops tightened a security cordon around
the area, raising fears of fresh bloodshed after 37 people died in
five days of fighting.REUTERS/Kerek Wongsa
The Thai government said it would accept a cease-fire offer from the Red Shirt leader on condition that the protestors return to their encampment in central Bangkok.
Earlier on Monday, the Red Shirt protesters had ignored calls by the government to leave their positions in central Bangkok, as troops tightened a security cordon around them.
A small plane dropped leaflets, urging the estimated 5 thousand protesters to abandon their fortified camp by three o'clock Monday afternoon, or face criminal charges and up to two years in prison. The demand had little impact, with unrest still flaring up in various parts of the downtown area.
Also on Monday, Major General Khattiya Sawasdiphol, who was believed to be a military advisor to Red Shirt protestors, died in hospital. He was shot in the head on Thursday, which further fueled tensions and violence.
Related stories