Watch Video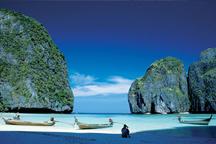 Play Video
The latest violence in Bangkok has dealt a severe blow to Thailand's tourism industry. Many tourists are canceling holiday plans to the country, which was once a hot spot for many international travellers.
Tourism is a major economic factor in Thailand, contributing about 6 percent to Thailand's annual GDP. However, this year, the two-month-long protests have cost its tourism industry about 1 billion US dollars. Economists warn the country's gross domestic product may drop nearly 3 percent.
Many foreign tourists' holiday plans are being disrupted by shootings right on the doorsteps of their hotels.
Mark Chappell, Australian Tourist, said, "We got to see shooting, firing going across the sky, and we heard bangs and guns going off for the first night."
Nadiel Stiffel, Australian Tourist, said, "I think I certainly would be lying if I said that I felt completely at ease."
Some foreign tourists are flying out of Thailand. Embassies near the encampment have closed. Many countries have issued ever more dire warnings about travel to the "Land of Smiles".
Related stories
Editor:Du Xiaodan |Source: CCTV.com