Russian President Dmitry Medvedev has met his Ukrainian counterpart, Viktor Yanukovych in Kiev. The meeting was part of a two-day visit by Medvedev to boost ties between the neighbors.
This is the Russian president's second visit to Ukraine within a month. Medvedev and Yanukovych have made clear their determination to turn a new page on relations.
Yanukovych said, "We could make mutually beneficial decisions, which are in the national interests of our countries and in keeping with the moods of the Ukrainian and Russian peoples, because they have been waiting for a long time for our countries to remove the strange complicated tone from our relations."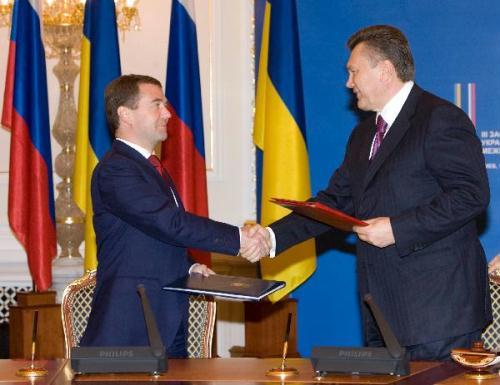 Russian President Dmitry Medvedev (L) and his Ukrainian counterpart Viktor Yanukovych
exchange agreements in Kiev, capital of Ukraine, May 17, 2010. The two countries
agreed to cooperate on a wide range of issues including natural gas and aerospace
ventures.(Xinhua Photo)
Medvedev said, "It's very good when everything begins with a new page, I mean we've had some difficult pages in our relationship in previous years. I hope that this rain will wash away all the past negativity and give us a basis for developing valuable, kind-hearted and friendly relations."
Medvedev said the talks were productive, and called Ukraine a true partner of Russia. He said bilateral trade is expected to reach 40 billion US dollars this year.
Yanukovych said the two countries have agreed to enhance border cooperation. He stressed that a cooperative partnership with Russia will help his country recover from the financial crisis.
The two presidents have also signed agreements on border demarcation, European security, and cooperation on banking, education and culture.